Child Custody Information Center
Dallas | Fort Worth | Irving | Plano | Frisco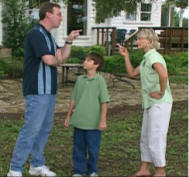 If you're in for a real battle with your spouse and headed for Court, it is wise to seek the advice of a child custody attorney early on to make sure that all your rights are protected during the process. Your separation may be occurring for any number of reasons: adultery, selfishness, irreconcilable differences, drugs, alcohol, gambling addictions, mental illness or physical abuse. Whatever the case of your impending separation, you don't want to leave your children to chance. Act early to get legal advice before it's too late. If you and your spouse are not in complete agreement custody, child support, visitation, and all other child issues, you are in a child custody fight! Call Today. Prepare Now.
Child Custody Attorney in Texas
How do you maintain custody of your child during the divorce process if your spouse fighting against you? The battle can be difficult, so it's important that you carefully plan and strategize your moves early to avoid making mistakes during the process that could cost you custody of your children. You must protect your children now in order to Win your case later. Call us today and let us show you how to protect your children and protect your rights using the legal system.
What can you do during the divorce process to make sure you're doing all you can to win custody of your kids?
If you want to maintain custody of your children during a lengthy custody battle, it is crucial that you seek counsel early on. You need an Attorney that is intricately familiar with the Child Custody courtroom procedures. Do not allow yourself to be put on the defensive by loosing custody of your children at the beginning of your case. Most cases have an initial custody hearing in Court within 3 weeks of your case being filed. Call us now to explain how we can help you protect your children using the legal system.Call me to discuss your situation. 972-445-1500
Visitation Calendars | Child Support Calculator
Child Custody Information
We hope the information on this site has been helpful for you. The main lesson to be learned is that Winning Child Custody almost always requires a long and painful fight. Let us show you how to Prepare Now and Win. Most clients are shocked at how complicated the legal system can be.
Len Conner Serves the Cities of:
Irving, Dallas, Cedar Hill, Mesquite, Garland, Grand Prairie
Los Colinas, Richardson, Plano, Highland Park, Arlington, Hurst
Euless, Bedford,  Southlake, Grapevine
Colleyville,  Lewisville, Denton, The Colony
Flower Mound, Corinth, Argyle, Coppell, Fort Worth
Frisco, Sachse, McKinney, Park Cities, Duncanville, Desoto
& Dallas County, Tarrant County, Denton County, Collin County
We hope the information provided here is helpful. Please call our office with any questions you may have. Unless otherwise indicated, attorney listed in this site are not certified by the Texas Board of Legal Specialization. This web site is designed for general information only. The information at this site should not be construed to be formal legal advice nor the formation of a lawyer/client relationship.
FULLY LICENSED BY THE TEXAS SUPREME COURT
Admitted to the US Federal Courts, Northern District of TX