Myths & Lies About Texas Divorce
It seems that everyone has an opinion as to "what the law is" or wants to be an "armchair lawyer." Sometimes, a client needs to understand that the law may not be what they have heard. This page addresses some of these issues.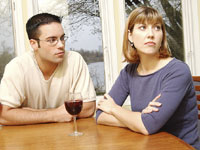 Child Custody and Support, Alimony, Divestment of Separate Property, and Unequal Division of Marital Property is Possible
Common Law Marriage & Not by living together, Not by having a Child
Three elements must be present to form a Common Law Marriage in Texas.
First, you must have "agreed to be married."
Second, you must have "held yourselves out" as husband and wife. You must have represented to others that you were married to each other. As an example of this, you may have introduced you partner socially as "my husband," or you may have filed a joint income tax return.
Third, you must have lived together in this state as husband and wife.
Child Custody and Support
Joint Managing Conservators: The Court will appoint both parents as "Joint Managing Conservators." It is a legal presumption that the JMC relationship is in the best interest of the children. Absent a circumstance that either removes the presumption, family violence, or overcomes the presumption, the Court will appoint the parents JMCs. See Texas Family Code §153.131(a). Do not confuse Conservatorship with Custody. These are different terms, with different meanings.
Standard Possession Order: As to visitation, the Court usually implements the Texas Standard Possession Order. The Standard Possession Order is a codified order that sets forth those periods in which one parent will have a right to possession and access to a child. All Standard Possession Orders call for agreement between the parties and in the absent of agreement the Standard Possession Order applies.
Child Support Guidelines: The Texas Family Codes provides for "Child Support Guidelines" in order to determine child support. In most circumstances, the Court will follow the guidelines. The table below, sets forth the basic parameters of child support. Recognize that this is a simplified version of the actual tables used and does not take into consideration all factors:
| | |
| --- | --- |
| 1 Child of the Marriage | 20% of Net Resources |
| 2 Children of the Marriage | 25% of Net Resources |
| 3 Children of the Marriage | 30% of Net Resources |
| 4 Children of the Marriage | 35% of Net Resources |
| 5 Children of the Marriage | 40% of Net Resources |
| 6 Children of the Marriage | 45% of Net Resources |
Alimony
Permanent Alimony. The Courts cannot award permanent alimony. Temporary Alimony or Spousal Support. The Court can order one spouse to pay the other "temporary alimony" for support during the pendency of the litigation. This is commonly referred to as "Espousal Support." Spousal Support is usually awarded to one party due to some extraordinary financial need. For example, a recent case involved a wife who was working as a receptionist in order to fill her time and for spending money (she was approaching her senior years, the kids were grown and gone). Husband had a very good income (over six figures). They lived in a $300,000 home. Spousal support was awarded during the pendency of the case in order to allow her to continue to make the utilities and mortgage payments.
Contractual Alimony. The parties can agree for, as part of the division of the marital estate, post divorce contractual alimony. Contractual alimony can be structured so that payments are deductible in calculating the obligor's taxable income. See 26 United States Code §71. Statutory Alimony. The Court can order support payments for one espouse after the divorce is final only if that espouse shows entitlement to "espousal maintenance." To qualify for espousal maintenance, the espouse will have to show (1) marriage of 10 years or more, (2) the espouse lacks the skills and experience for gainful employment, (3) lacks the means for self support. Maintenance payments must cease no later than three years after the divorce. The typical fact scenario for espousal maintenance involves an elderly housewife who has spent most of her married life in the home. She is without the requisite job skills to support herself.
Post Divorce Alimony
This article provides a brief overview on Texas law concerning post-divorce alimony in Texas. Laws differ from state to state and individual circumstances vary, so you should consult with a qualified family law attorney in your area for specific advice on your particular situation. Additionally, this article deals only with post-divorce alimony. It does not address temporary alimony, which is provided for under a different provision of the Texas Family Code.
Two Kinds of Alimony: Contractual and Court Ordered Maintenance
There are two kinds of post-divorce alimony in Texas: contractual alimony and court ordered maintenance. The Texas Family Code also provides authority for the court to order temporary alimony which occurs while a divorce is pending. However, temporary alimony is outside the scope of this article and will not be addressed.
Contractual Alimony
Contractual alimony is based on an agreement between the parties in their divorce decree. For tax purposes, contractual alimony is normally deemed income to the receiving party and is deductible from the income of the paying party. Since contractual alimony must be based on an agreement of the parties, there are no limits to the possible amount or duration of the alimony.
Court Ordered Maintenance
Court ordered maintenance is provided for by Texas Family Code Chapter Eight. Although actually awarded in only a small percentage of Texas divorces, the court has the right to order one spouse to pay the other post-divorce maintenance in either of two circumstances:
1. The payor spouse either received deferred adjudication or was convicted of a crime constituting family violence within two years of the filing of the divorce case, or
2. The parties have been married at least ten years and the receiving spouse has some kind of financial limitation (disability, unable to work because caring for the party's child, or lacks earning ability to meet minimum reasonable needs).
The monthly amount of court ordered maintenance is capped at the lesser of: a) $2,500 or b) 20% of the monthly payor's gross income.
The maximum duration of court ordered maintenance is three years. The only exception is when maintenance is ordered as the result of a disability, in which case the duration can potentially extend indefinitely.
Considerations
Where there is a large disparity in incomes alimony can sometimes be used as a useful settlement tool. Since alimony is generally taxable to the receiving party and deductible to the paying party it can be often structured so that it is advantageous to both parties.
For example, a party in a high tax bracket can agree to make monthly alimony payments in exchange for a more favorable property division. If the receiving party is in a lower tax bracket, the overall income tax paid could be significantly lower than what it would be otherwise.
Another factor to consider is how rarely Texas trial courts order
maintenance, absent an agreement. The statute allows for maintenance only when the specific statutory circumstances have been proven. There are several appellate cases that have reversed trial court decisions ordering maintenance when the requesting party did not provide sufficient proof that the standard had been met.
In cases where there is a large amount of community property, one of the most effective arguments in attempting to defeat a maintenance claim is that the requesting party will have ample resources to provide for their needs since the party will receive a significant amount of assets from the division of property.
Another common argument used to defeat a maintenance claim is that, during the pendency of the divorce, the requesting party has not made significant attempts to either obtain employment or obtain training that would allow the party to obtain employment.
As an example, lets take a divorce case where the wife is requesting maintenance on the grounds that the marriage is longer than ten years and that she lacks the earning ability to meet her minimum reasonable needs.
If, the case has been pending for several months and at the time of trial she has still made no effort to obtain employment or improve her job skills, it will be a difficult claim to succeed upon. The court is unlikely to find that she is "unable" to meet her reasonable minimum needs and more likely to believe that she is unwilling to take the necessary steps in order to provide for her own support.
Conclusion
Alimony in Texas, while rarely ordered, is an important and complicated issue. It can be used as an effective settlement tool and can potentially be a significant trial issue. For someone involved in a Texas divorce case with a potential alimony issue, the issue should be discussed in detail with an experienced divorce lawyer.
No Divestment of Separate Property
The court cannot divide or divest one espouse of title to his or her separate property. Eggemeyer v. Eggemeyer 544 S.W.2d 137 (Tex. 1977); Cameron v. Cameron, 41 S.W. 210 (Tex. 1982). The court, however, can award "reimbursement" to the community estate for expenses incurred by the community to support or improve the separate property. This claim will not succeed where the non-separate property holder enjoyed "benefits" from the separate property. For example, no claim for reimbursement will lie for a separate property home that was also the marital home. Contrast this, however, with a community property reimbursement claim for a separate property business where espouse spent all of his time, labor and community property to improve the business.
Unequal Division of Marital Property Possible
The only hard and fast rule for the division of marital property is a "just and right division." An ambiguous term at best. In most cases, the Court will divide the property along the lines of 50/50 absent some circumstance which indicates otherwise. Circumstances calling for an unequal division include disparity of earning power, espousal or child abuse, and/or size of the separate property estate.
For a
confidential consultation
to discuss your legal matter with an experienced Texas Family Law and Divorce Lawyer, please call us at
972-445-1500
if you're in the Dallas / Fort Worth Area.
Tools
Standard Visitation Calendar 2010
Expanded Visitation Calendar 2010
The Law Office of Len Conner Serves the Cities of:
Irving, Dallas, Cedar Hill, Mesquite, Garland,
Grand Prairie, Los Colinas, Richardson, Plano, Highland Park,
Arlington, Hurst, Euless, Bedford,  Southlake, Grapevine,
Colleyville, Lewisville, Denton, The Colony, Coppell,
Flower Mound, Corinth, Argyle, Fort Worth, Frisco,
Sachse, McKinney, Park Cities, Duncanville, Desoto,
& Dallas County, Tarrant County, Denton County, Collin County
We hope the information provided here is helpful. Please call our office with any questions you may have. Unless otherwise indicated, attorney listed in this site are not certified by the Texas Board of Legal Specialization. This web site is designed for general information only. The information at this site should not be construed to be formal legal advice nor the formation of a lawyer/client relationship.
FULLY LICENSED BY THE TEXAS SUPREME COURT
Admitted to the US Federal Courts, Northern District of TX
Member of the Texas Family Law Section of the Texas State Bar Association