Domestic & Violencia Familiar
Domestic Violence in Divorce and Child Custody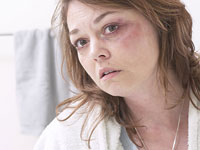 Unfortunately, it is a part and parcel of society. There are those who would cause harm to their spouse, who would injury their wife or husband. There is a husband who would hit his wife, beat his wife, injure his wife, hospitalize his wife, and kill his wife. "Out of love." Bull. Out of insecurity, inadequacy, and out of a history of family violence in his own family. Unfortunately, incidents of family violence occur all too often in our society. Be advised, the State of Texas takes a dim view of it. This page was developed by the firm, to help victims of family violence. To help them get the help they need. And yes, we can do something about it. That is why we practice family law.
Between 2 y 4 million women are annually victimized by domestic violence. Most children in homes in which domestic violence occurs witness that abuse and suffer secondary psychological effects, including aggressive behavior and depression. Male children who witness abuse are more likely to become abusers themselves as adults, creating a vicious, intergenerational cycle of violent behavior. (ABA Domestic Violence Commission)
If you need help or someone you know is experiencing or in some way involved in domestic violence please recognize that there are measures to take in order to prevent further harm. If you are a victim of violence we strongly urge you to devise a safety plan for a time of extreme emergency, and the following list of Domestic Shelters will be a great start for obtaining help and vital information.
For every television news story that you see about a family violence murder, there are fifty that don't make it onto TV.  It happens every day.  If you feel that you are in danger NOW, call 911. If you need help getting out of a bad situation, call us NOW, so that we can help you feel safe again, and prevent you children from the chance of becoming a future abuser. Call Today!
Parenting Classes:
These classes are the for children who are caught up in the traumatic break up of their parents marriage. These classes can help them tremendously. They are cheap, easy to find, and the people that work there are superb. Give them a call if you believe that they could be on any help. You will learn the skills you need to help your children through this difficult process.
Para consulta confidencial to discuss your legal matter with an experienced Texas Domestic Violence and Divorce Lawyer, por favor llámenos al (972) 445-1500 si estás en el área de Dallas / Fort Worth y alrededores. Llámenos al número gratuito 1 (877) 613-5800.
Herramientas
Estándar Visitación Calendario 2010
Calendario ampliado Visitación 2010
La oficina legal de Len Conner sirve a las ciudades de:
Irving, Dallas, Cedar Hill, Mesquite, Guirnalda,
Grand Prairie, Los Colinas, Richardson, Plano, Highland Park,
Arlington, Hurst, euless, Bedford, Southlake, Vid,
Colleyville, Lewisville, Denton, La colonia, Coppell,
Flower Mound, Corinto, Argyle, Fort Worth, Frisco,
sajón, McKinney, park Cities, duncanville, Desoto,
& Condado de Dallas, Condado de Tarrant, Condado de Denton, Condado de Collin
We hope the information provided here is helpful.Please call our office with any questions you may have. A menos que se indique lo contrario, abogado que aparece en este sitio no están certificados por el Consejo de Especialización Legal de Texas. Este sitio web está diseñado sólo para información general. La información en este sitio no debe interpretarse como asesoramiento legal formal ni la formación de una relación abogado / cliente.
Con todas las licencias POR LA CORTE SUPREMA DE TEXAS
Admitido a los Tribunales Federales de los Estados Unidos, Distrito Norte de Texas
Miembro de la Sección de Derecho de Familia de Texas de la Asociación de Abogados del Estado de Texas