Texas Grandparents' derechos
Grandparent Access | Grandparent Custody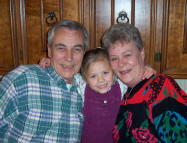 In June, 2000, the U.S. Supreme Court in Troxel v. Granville, in one of its rare decisions in the Family Law area, reshaped the definition of family by determining who has the power to control possession of minor children. The decision has been hailed as a victory for parents rights and a defeat for grandparents rights. However, the decision should not have a tremendous effect in Texas for reasons hereafter stated.
In Troxel, the surviving parent of a child objected, not to the parental grandparents having possession of the grandkids, but to the amount of time of possession. The case, procedurally, affirmed the Washington Supreme Court's overturning of its non-parent possession statute, which was called "breathtakingly broad", by the U.S. Supreme Court. In essence, the U.S. Supreme Court indicated that it disapproves of an extremely broad statute that allows any person-including any person from off the street-from being able to have standing to come into Court and force a parent to show a judge that it is not in the child's best interest for this third party to have possession rights. The U.S. Supreme Court noted that all fifty states have grandparent possession statutes and was unwilling to extend this Troxel ruling beyond the, again, "breathtakingly broad" Washington statute.
In 2005 and again in 2009, the Texas legislature modified the Grandparent Access statutes in sections 153.432 y 153.433 of the Texas Family Code be more compliant with the requirements of Troxel and other recent Texas Supreme Court decisions. While the bar has definitely been raised for Grandparents to successfully gain access to their grandchildren, these suits can still be successful.
If you are one of the many grandparents who have heard that Grandparent rights are gone, call us so that we can explain to you why this is Not True.
Herramientas
La oficina legal de Len Conner sirve a las ciudades de:
Irving, Dallas, Cedar Hill, Mesquite, Guirnalda,
Grand Prairie, Los Colinas, Richardson, Plano, Highland Park,
Arlington, Hurst, euless, Bedford, Southlake, Vid,
Colleyville, Lewisville, Denton, La colonia, Coppell,
Flower Mound, Corinto, Argyle, Fort Worth, Frisco,
sajón, McKinney, park Cities, duncanville, Desoto,
& Condado de Dallas, Condado de Tarrant, Condado de Denton, Condado de Collin
Esperamos que la información aquí proporcionada es útil. Por favor llame a nuestra oficina con cualquier pregunta que pueda tener. A menos que se indique lo contrario, abogado que aparece en este sitio no están certificados por el Consejo de Especialización Legal de Texas. Este sitio web está diseñado sólo para información general. La información en este sitio no debe interpretarse como asesoramiento legal formal ni la formación de una relación abogado / cliente.
Con todas las licencias POR LA CORTE SUPREMA DE TEXAS
Admitido a los Tribunales Federales de los Estados Unidos, Distrito Norte de Texas
Miembro de la Sección de Derecho de Familia de Texas de la Asociación de Abogados del Estado de Texas